Shouldn't that be "Mysteries" Most Wanted, geniuses?
Where can I see you perform? When?
Do you travel for shows? How far?
I'm a restaurant, why should I hire you?
I'm interested in joining your company--how can I?
I'm a writer, can I send you my scripts?
How do I know if you're available for my event?
Do we have to travel to one of your regular venues for a private show?
Are you appropriate for all audiences?
Do you need a stage to perform? What about microphones?
Do you provide the food?
Then what do you provide?
Do you offer gift certificates?
What is the schedule of a typical evening?
Are you right for my function?
How much does a performance cost?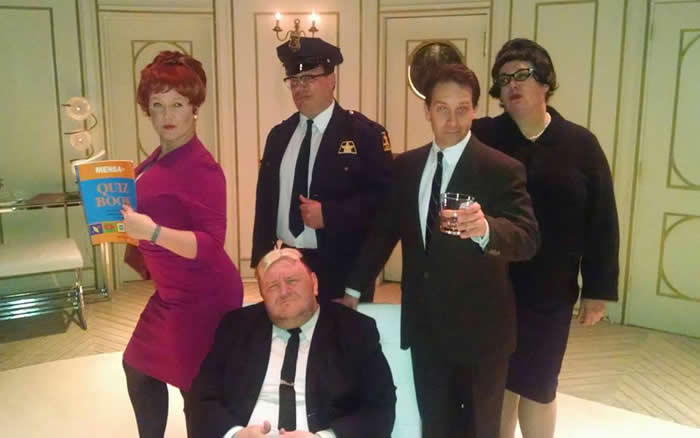 Mystery's Most Wanted has been performing murder mystery dinner theatre in Pittsburgh and surrounding areas for over twentyyears. Comprised of five professional character actors with strong improv skills, the group performs original comedic mysteries at regular venues and is available for private shows for corporations, celebrations, and any other occasion you can think of. We also have an extremely talented second cast that regularly performs for us.
What sets Mystery's Most Wanted apart from other murder mystery groups is our unique sense of humor, our improvisational strength, our longevity, and the fact that we love what we do. We have 12 original scripts that we perform, but while the material may be scripted, our cast is dedicated to tailoring the evening to the audience: every show is unique. In addition to scripted hilarity, our shows also include music and the occasional dance number. You, your group, and other audience members are at the center of the action as the show takes place around you.
.
Shouldn't it be "Mysteries Most Wanted," geniuses?
No, it shouldn't. And we prefer "genii."
.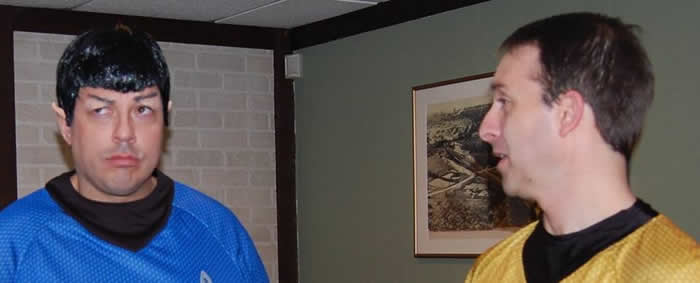 Where can I see you perform? When?
For our current Pittsburgh performance dates and shows go here. Our performance regularity varies, but during the season (fall - spring) we usually do at least two public performance per week. During the summer, things grind to a halt, and you can usually only catch us performing publicly once a week while we concentrate on advancing our careers in the food service industry.
We also do monthly emailings announcing our upcoming shows for the month, and bi-yearly mailings (in the late summer and early winter) for the folks without email announcing upcoming shows. If you'd like to be added to either of these mailing lists, please email us with your contact information at mmw1995@ymail.com.
.
Do you travel for shows? How far?
We have traveled as far west as Chicago and throughout the east coast for both public and private performances.
.
I'm a restaurant, why should I hire you?
Visit our this page to find out why.

I'm interested in joining your company--how can I? What kind of time commitment can I expect?
Mystery's Most Wanted holds auditions for new members, B Casts, and understudies, usually in the early fall. For more information please call 412-727-6784 or email us at mmw1995@ymail.com. Mystery's Most Wanted looks for strong, flexible character actors who are skilled at improvisation and who, hopefully, can sing. Our cast members need to be available for frequent (read: almost daily) evening work, periodic daytime work, and intermittent out of town travel. While we don't guarantee a certain amount of work or a set salary, our "A cast" works what amounts to a full time job with us during the fall through the spring. We are every proud to say that we pay generously, gush frequently, and our workplace has been accident free for 32 days.
.
I'm a writer, can I send you my scripts?
Mystery's Most Wanted writes all of its own scripts, tailored to our cast members individual strengths, though we are certainly happy to look at other material. Please note that we are old and cranky and fear change so we probably won't deviate from our tried and true formula, but if you have a script that you think will fit us, feel free to send it, just don't get your panties in a bind if we don't respond right away.
.
If you're looking to rent a script so that your theatre group can put on lively murder mysteries of its own...you've come to the wrong place. Unfortunately, we prefer to have our own casts performing our material.
.
How do I know if you're available for my event?
Give us a call to find out! Most of our already scheduled dates are listed on our "current shows" page--at least everything our webmaster had access to, but sometimes things have been added that aren't up there yet. Even if we are already booked for your date, we have a second cast, which means that you might be able to get our alternative cast of professional actors at your event! To find our for certain if we can accomodate you, please call us, the sooner the better.
.
Do we have to travel to one of your regular venues for a private show?
Mystery's Most Wanted is available to travel right to the location of your choosing, or we would be happy to set something up at one of our regular venues.
.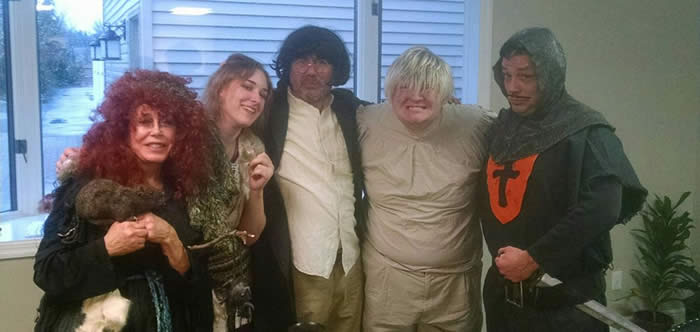 Are you appropriate for all audiences?
Did I mention we're heavy on innuendo? Seriously, most of our shows are rated PG-13, but we can cater to just about any audience at your request. Prior to any private show, we always ask the client if there are any restrictions regarding language or content. We want you to have the best time possible and we know that means making sure that no one in your group is uncomfortable.
We have less control over our public shows. Nothing we do is any worse than what you might seen on NBC at 8:00PM, but that doesn't mean it's appropriate for children.
.
We do offer kids shows for private events. Our newly started C.L.U.E.S. (Creative Learning Using Entertaining Shows) are mysteries designed for kids from kindergarten through high school.
.
Do you need a stage to perform? What about microphones?
By our very nature we want to be "in the thick" of things, so rather than performing on a stage, we prefer to perform on the same level as the audience, usually in the center of whatever room they are dining in. In fact, the only thing we usually need from you for our performance is a ready and willing audience, and enough room to turn around.
.
But...let's put it bluntly: we're loud people. One might even say we have big mouths. But some challenging venues (boats, trains, underground lairs) can swallow up even the loudest of us. In the unusual event that the venue you have in mind presents a challenge sound-wise, we may ask that you provide, at your expense, individual microphones (lavaliers) for the actors.
.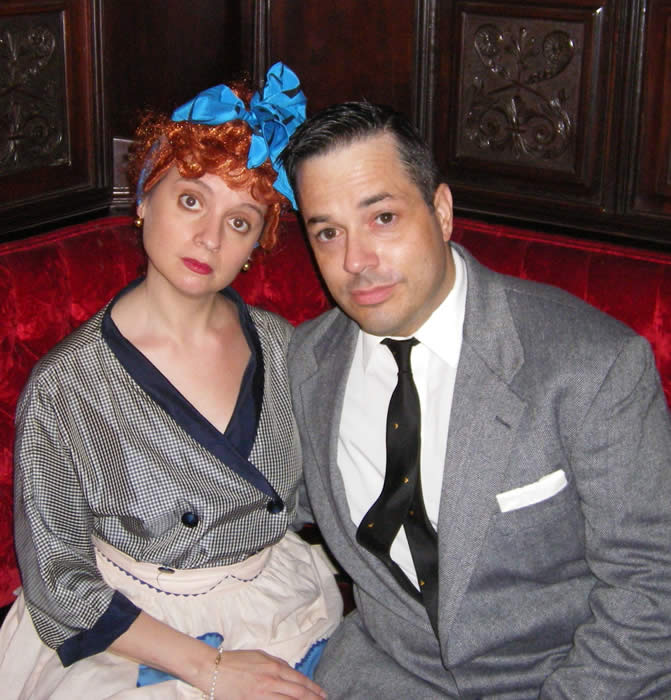 Uh, no. We're actors, not caterers.
.
.
Do you offer gift certificates?
Gift certificates cannot be purchased through us, but they may be purchased directly from the venue of your choice. Please contact the venue directly.
What is the schedule of a typical evening?
Because of the nature of our shows, and the amount of audience involvement, they run on a flexible schedule that can be tailored to fit the needs of any group. But just to give you an idea, here is a typical time line:
7:00-7:30 The characters mingle with your guests, introducing themselves and setting up the plot.
7:30-8:00 Soup or salad is served
8:00-8:30 Act one is performed
8:30-9:00 Main course is served
9:00-9:30 Act two is performed, audience is invited to interrogate the characters
9:30-9:45 Dessert and coffee served
9:45-10:15 Act three is performed, winners are announced, and prizes are awarded.

We do prefer to perform between courses rather than when the audience is eating. This allows your guests ample opportunity to get whatever they need to make their meal more pleasurable (condiments, refills, correctly cooked swordfish) & allows them to chat with their tablemates while preventing us from having to compete with the surprisingly distracting sounds of dining.
Are you right for my function?
We have performed for almost every audience, from corporate big wigs to bowling leagues and everything in between. The variety of our shows and the flexibility of our performers allow us to make our material work for both the elegant evening out and the down and dirty night on the town. We are a theatrical troupe, meaning that there is an actual play to be performed and watched; we don't just drop clues and leave you on your own. If you have other activities planned for your afternoon or evening, we ask that those take place before or after our performance, not during. Hey, we're actors after all--we like being the center of attention.
How much does a performance cost?
For our public show performances, price varies by venue. Private performances vary according to location and group size. For more information, please call 412-727-6784.